poetteacherperformerscientistecologistwarpoet - home

ShadoWork - collaborative performance and training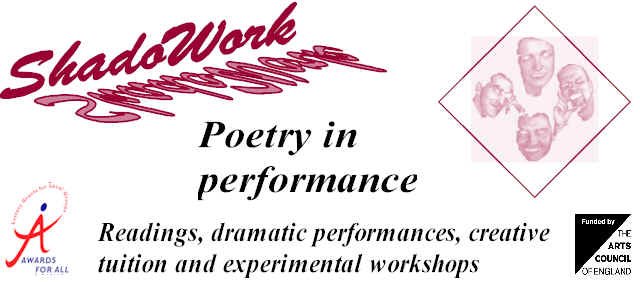 The ShadoWork Poets are:

&nbsp
Mario Petrucci
Sarah Dudman
Martyn Crucefix
Brett van Toen

&nbsp
&nbsp
&nbsp
Four London poets are doing the unthinkable. They're sacrificing authorship of their best work [the horror!] to create a collaborative experience of far greater complexity and dramatic variety than any individual voice can achieve. The project is called ShadoWork, and their aim is to disrupt and enrich the conventional regimes of author, text and audience.

ShadoWork performances and training weekends have drawn critical acclaim nationwide. The group is supported by the Arts Council of England and the London Arts Board. These are poets at the cutting edge of inventiveness and authenticity. Don't miss the chance to witness a powerful new trend in performance.

Click here : ShadoWork resources for schools

what the critics say

"ShadoWork are four award-winning poets... who, together, have pioneered a brand new form of poetry in performance. They extend the boundaries of the word. The effect is dynamic. Their experience and success... will inspire and provoke, creating something that's more than the sum of its parts. Even if you don't think of yourself as a performer, you will find this workshop providing new perspectives on your written work."
Derby City Literature Development

"Innovative, unique and dynamic. Suddenly the whole concept of "poetry reading" was challenged ... startlingly effective."
Poetry Nottingham International

"The courage of these poets is to use their own creative impulse as raw material for a joint effort; their achievement is distinctive, thought-provoking... even moving."
Poetry News

"Refreshingly entertaining."
Enitharmon

"For much of this century, English poetry has been confined to the page. Happily, it is now rediscovering its oral tradition. We should welcome the new movements in which poets learn new ways of performing poetry. ShadoWork is one such movement; it should be applauded and encouraged."
Leo Aylen, Jermyn Street Theatre


what the audiences/participants say

"Brilliant. powerful delivery of material. Illustrated perfectly the ideas from the afternoon workshop."


"Just like music...light and shade, good pausing. Come back!"


"Superb evening. Lasting impressions."

"Really beautiful. I was...entranced."

"Another BRILLIANT Masterclass today. Really different and interesting... I think the idea of collaborating for writing and performance has so many possibilities for writers, and could well be adapted to use in schools to take away some of the anxiety of personal responsibility for a piece of work. It also encourages team work and pooling of resources with young people or children... It's really got people thinking about the writing process for performance, and that is fresh and exciting. Mario's workshops get better and better. I feel in capable, supportive hands, and he always leaves me with loads to mull over."
[re. Birmingham ShadoWork workshop run by Mario, 2010]

"A powerful and unusual presentation." ""It is rare to hear poetry delivered with the potency and imagination it often deserves... powerful and provocative." "One of the most outstanding and innovative performance groups in the country." "ShadoWork's multivocal approach... is an extraordinary and moving multidimensional experience of voice and text. Surely one of a kind."
[organiser/ participator comments, International War Conference ('Smart Bombs, Dumb Wars'): Institute of Education/ UELondon, Nov. 2003]


Audio excerpts...

For audio of ShadoWork performances, see relevant entry on audio page here.


Some ShadoWork resources...

For some quick Voice/Breath exercises... click here.

For more extended ShadoWork exercises... click here.

ShadoWork also included extensive collaborative writing methods and an introduction to experimental co-vocal techniques. Here is the SHADOWORK MAP...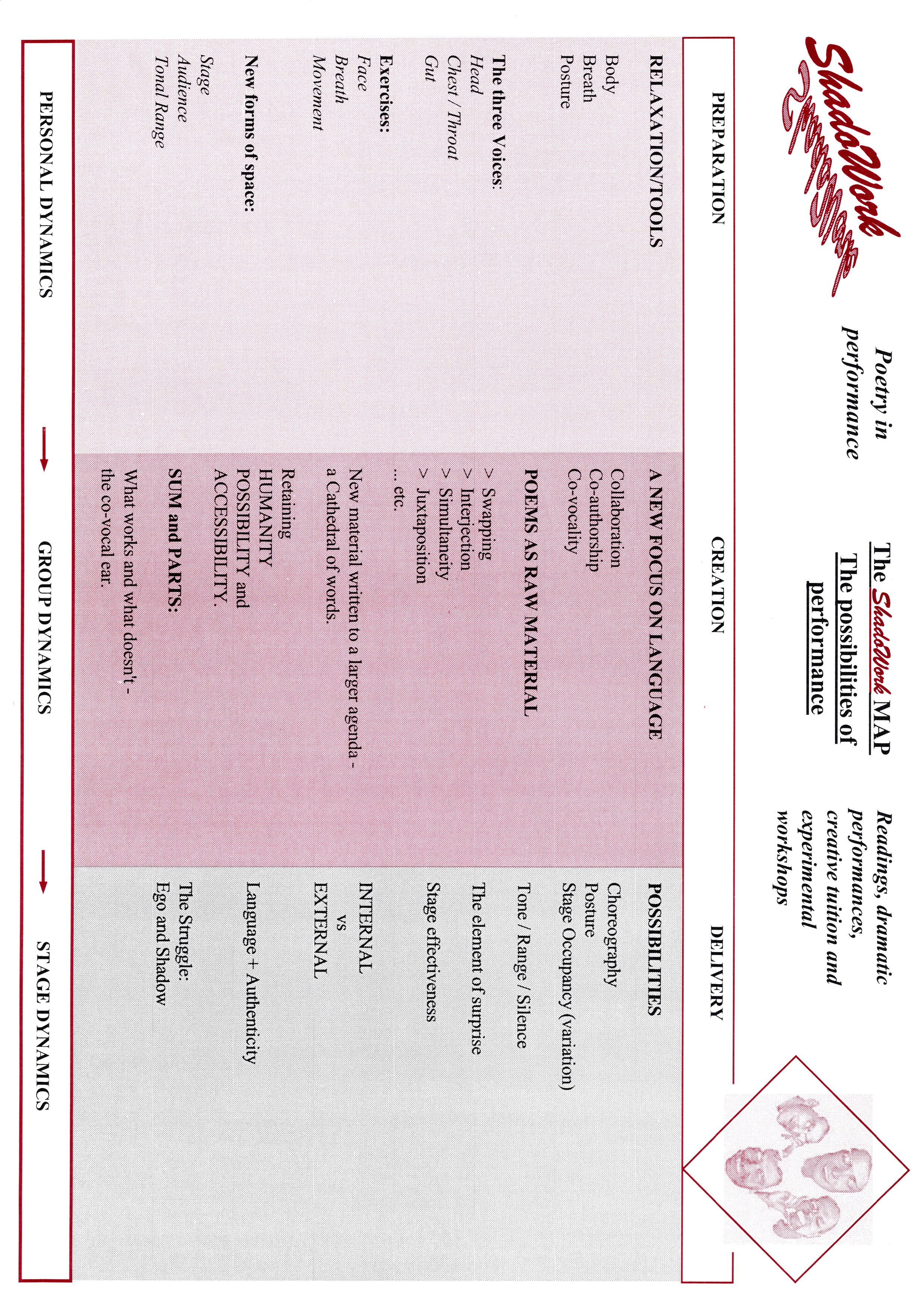 *************************************************************
FURTHER INFORMATION
& BOOKINGS
copyright mario petrucci 2001